HQ Rental software offers various iFrames, such as the reservations one, which you can integrate into your website. This will allow your customers to make bookings online. Our system has two main ways to integrate with your website, a WordPress iFrame Plugin or a direct iFrame integration. To learn how to integrate with a WordPress based website, click here. To simply setup the iFrames on your website, please follow these simple steps below:
Step 1 – Navigate to Branch Settings
Log in to your HQ Rental Software account and navigate to settings > fleets > branches > select your branch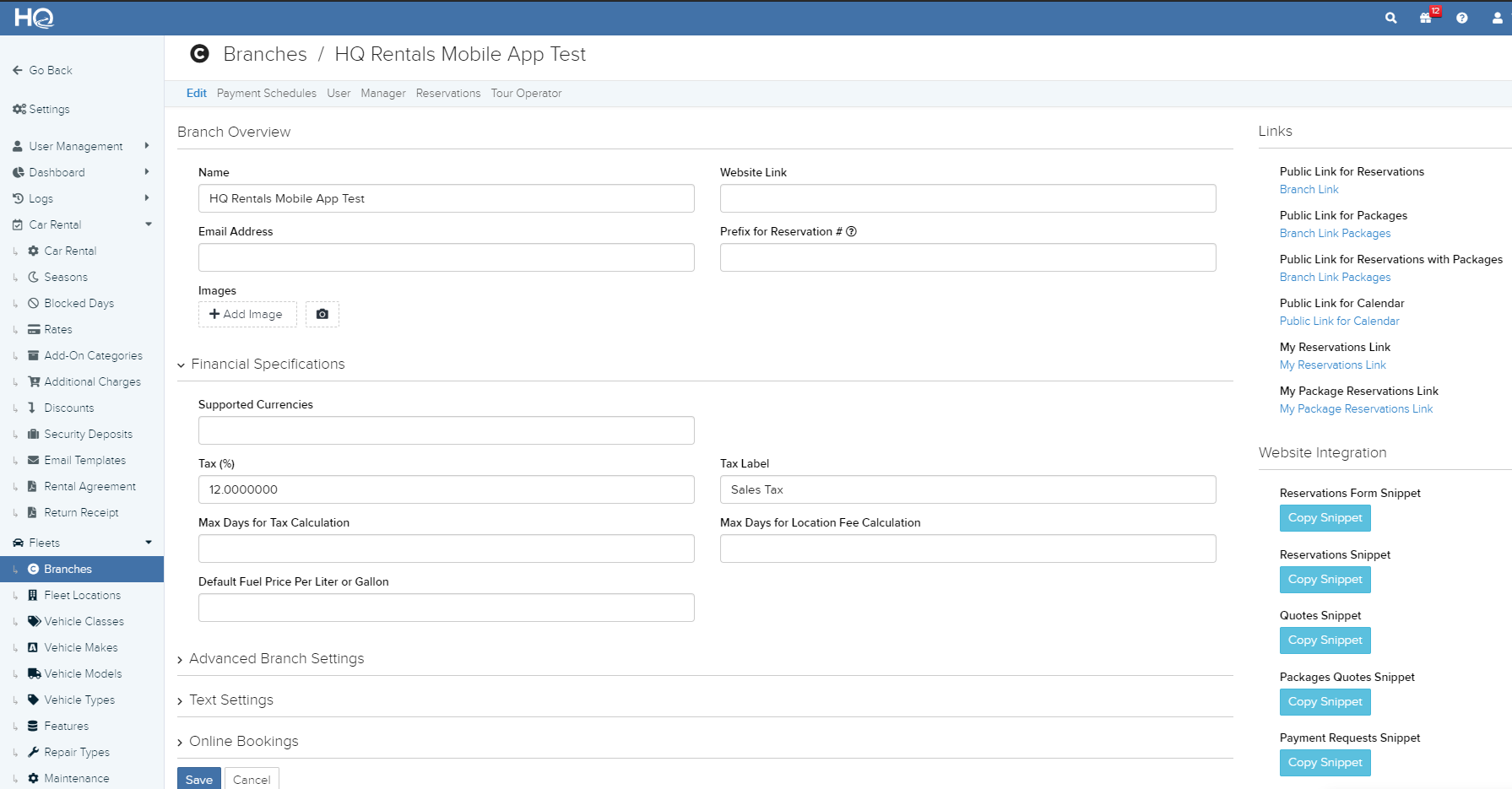 On the far right of the screen, you will see a section titled Website Integration. You have a set of snippets available that you can copy and paste onto your website. Please note that these snippets are available per branch.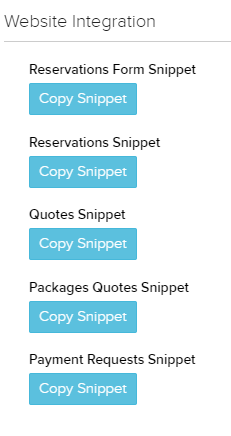 Step 2 – Copy Snippet
Now you may copy the Snippet of the iFrame you would like to integrate on your website.
Reservations Form Snippet– To setup the booking form on your home page you may copy the "Reservations Form" Snippet. This form will contain all the fields included on step 1 of the booking process, and will take the user to step 2 of the reservations process.
Reservations Snippet – For the reservations process from step 1 to step 6, copy the "Reservations Snippet"
Quotes Snippet – To enable quotes on your website, copy the "Quotes Snippet"
Packages Quotes Snippet – To enable packages quotes on your website, copy the "Packages Quotes Snippet"
Payment Requests Snippet – To enable quotes on your website, copy the "Payment Requests Snippet"
Step 3 – Paste Snippet
Login to you website's administration panel. Navigate to the website's page where you would like to include your iFrame, or create a new page. There paste the snippet and save.
Step 5 – Update CNAME Record
Due to an incompatibility with Safari and Opera browsers, the domain name of the iFrame has to be updated. You will need to add a CNAME record in your DNS records where the value is the name of your tenant. For example, if your link is my-company.caagcrm.com or my-company.hqrentals.app the value for the CNAME record has to be "my-company", and the value needs to be your link for example my-company.caagcrm.com
Once you have created the CNAME record on your domain, you will receive an SSL error. Please create a support ticket inside the HQ application so our team can proceed with the installation.