This "Availability Dashboard" tab gives an overview of your vehicle classes and their availability in the form of graphs over a period of time that you select. The first box you find on the dashboard will show you the availability per vehicle class, which will be a more practical way to look into your fleet availability.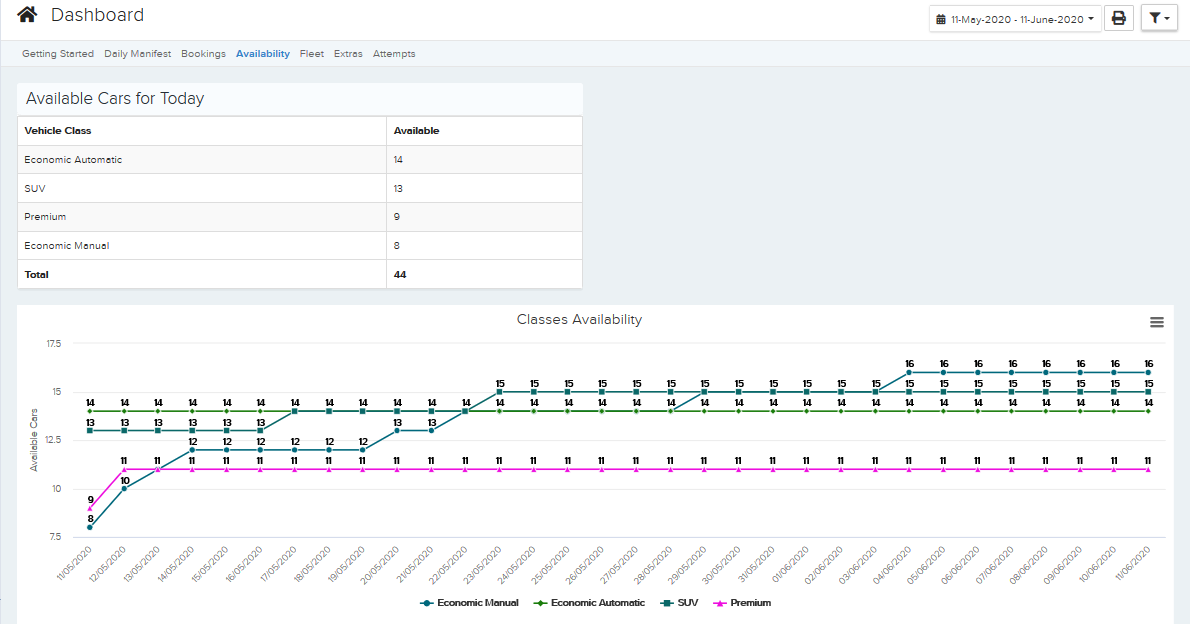 You can change the period of time that you would like to with these 2 steps:
Click the date on the top right corner of the screen as shown in the picture below, highlighted in orange.

Next, when the dates appear, select the period of time that you wish to show and click the green "Apply" button. The system also has some default time periods for you to choose from.
Classes Availability
This tells you the number of vehicles available in the form of a graph during the period of time. Each color in the graph represents a different vehicle class that you have in the system.
By default, the dashboard takes the return date of the reservation as the dates for the intervals. This can be changed to Pickup date or Creation date as well.
Firstly, navigate to Settings > Car Rental > Dashboard tab as highlighted in orange in the picture below.

Next, select the default filter that you would like to use. The three choices are Return Date, Pickup Date, and Creation Date as shown in the picture below.

Once you have selected, click on the blue "Save" button, highlighted in orange in the picture below to apply the changes.

What happens is that the system will now take the selected date filter for the dashboards when you apply the calendar range. For example, if you selected Pickup Date as the interval when you apply a range from 24th August to 24th September, the system will take all the reservations whose pickup dates are in that interval to be calculated.
To view more information about the other dashboards, follow one of these links: