This article will show you how to set up the Car Locations Movement Report. You will be able to set the cost of vehicle transfers between your locations. This will be reflected in the Finance report per vehicle or it can also be reflected in the Expense Overview under the Reports tab.
First, you will need to create an Expense Type for the Relocation. Navigate to your Settings > under Fleet > Fleet Settings> Expenses types.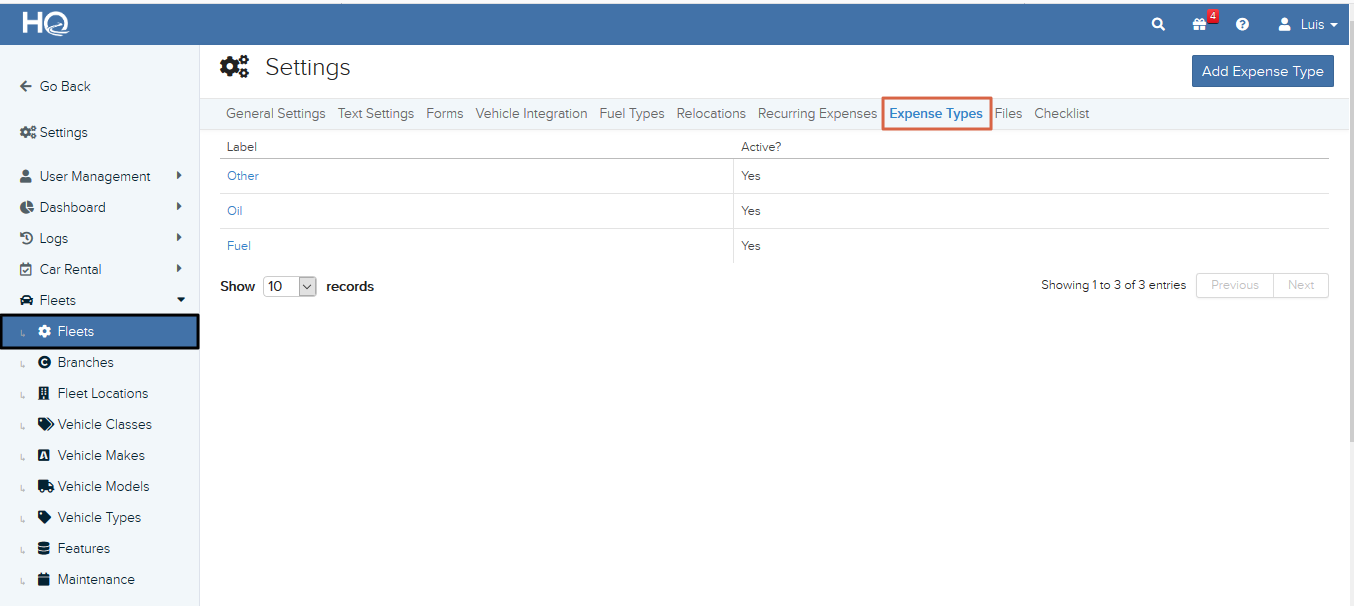 Next, click the "Add Expense Type" button located in the right corner of the screen.

Next, type in the Label in the field marked in the picture below, and click on "Save".

Now, on the same fleet settings page go to the "Relocations" Tab, then on the "Expense Category for Relocation" make sure you select the Expense for relocation you recently created, as shown in the picture below.

After you select the expense type, add the cost of every vehicle relocation/movement from point A to point B. Click Save.

Now that the amount per vehicle relocation is defined, you will be able to add them per vehicle unit.
On the main menu, navigate to Fleet > Vehicles > select a vehicle; by clicking on the Vehicle Key or License plate.

On the vehicle unit screen, click on the Relocations tab. There you will see the "Relocate Vehicle" button on the upper right-hand side of the screen.

When you click that, it will pop up a window – Choose where the vehicle will be relocated. You could also set up the amount if it is a new one, date, time, current odometer, and fuel level if needed; Make sure to click on the "Save" button.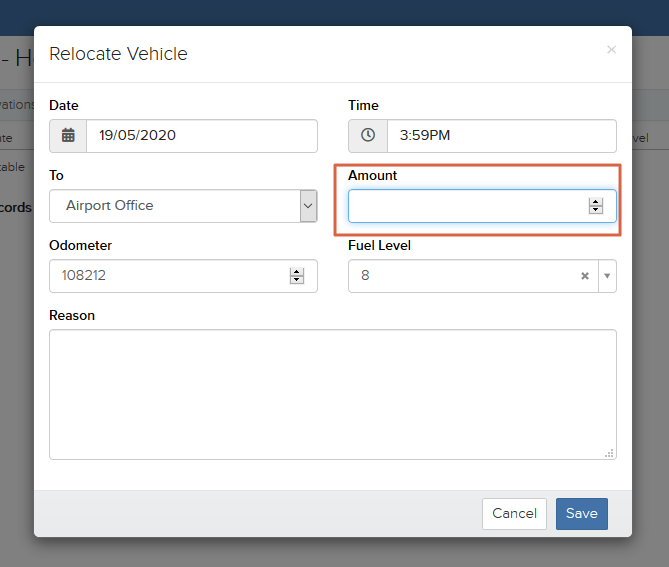 NOTE: If you do not put anything in the Amount field and proceed on saving, then the amount you set under the Relocation Expense will be applied. However, you can also set up a particular amount and it will be applied
Once it is saved, it will now be displayed as shown below.

The Relocation Expense will also be displayed on the Expenses tab.

Also, on the Vehicles > Reservations tab, it will also be added to the Total Expenses of the vehicle.

Under Dashboard > Reports > Expenses Overview – it will be reflected in this report as well.