The Getting Started Dashboard is the first page that you will see when you first signed up for a trial. This section helps you to get your system up and running. There are a total of 17 different steps and are somewhat necessary to get the system fully up and running.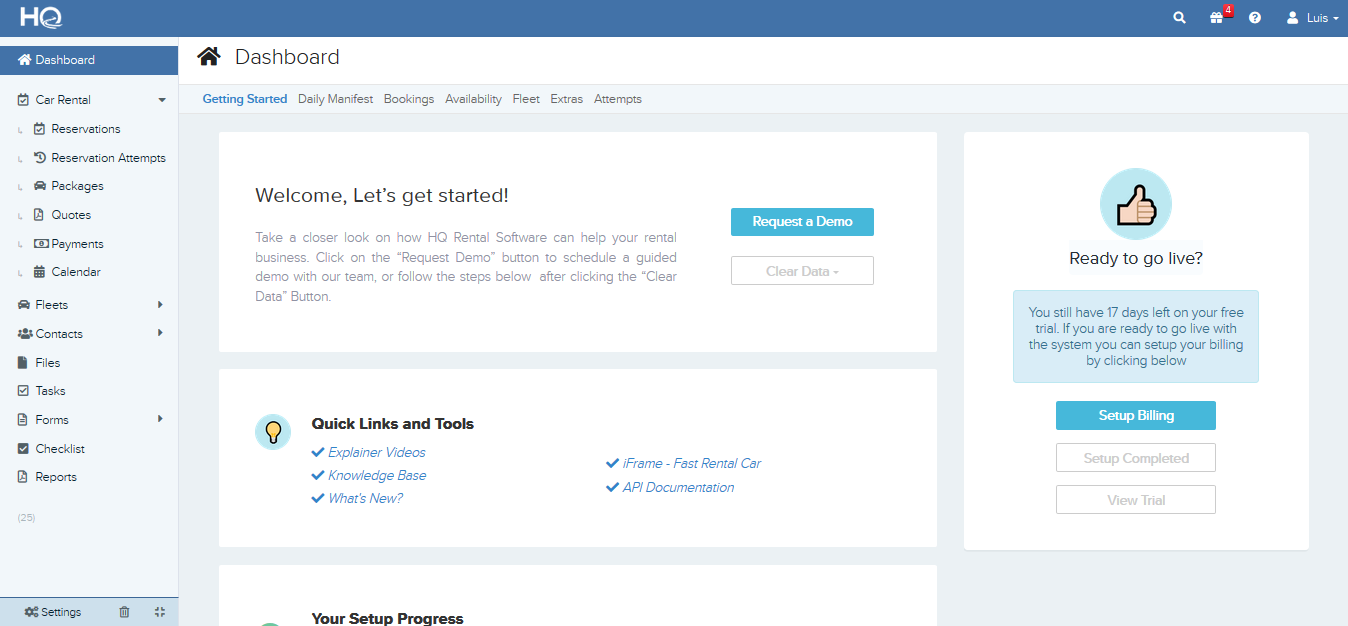 Pickup & Return Locations
This step will help you to set up all the locations of your rental company especially if you have more than one pickup and return point. By default, the system has 2 locations which are the office and the airport but these locations are removable.
Import Vehicles
One of the more important steps when setting up the system. With this step, you are able to enter your entire fleet into the system without the hassle of adding them in one by one. Just click on the "Download Template" button to download an excel file template. Click "Upload" once after you have finished entering your vehicle information and it will upload your fleet to the system after a series of validations done by the system.
Customize Vehicle Classes
This is also one of the next important steps to get the system up and running. Your vehicle classes (standard, premium, economic) are what determines your rates. So in the event that your rates are set up in a way that each different type of vehicle model (Ford Fiesta, BMW 118i) has a different rate, you would have to set up a different vehicle class for each of them. You can also add any additional information about your vehicle classes and it will show during the reservation process.
Upload Logo
This step uploads your overall company logo. To set up each of your branch's company logo you can head to Branches settings under the Fleet category.
Seasons
This step helps to set the different seasons that your company uses. For example, peak and non-peak season or summer and spring. Do note that the date of the seasons cannot overlap each other or it will cause the system to have an error. You can create as many seasons as you would like.
Rates
This step helps to set up your company's hourly, daily, weekly or monthly rates. The system requires the minimum of a daily rate for it to work. If you have set up your seasons, you can set up the different rates for the different seasons so that you can easily get the correct amount for your rental.
Security Deposits
This step sets up your company's security deposit rules if your company has any specific rules regarding additional payments that the customer must adhere to.
Additional Charges
This step sets up any additional services that your company provides to a customer. For example, child seats or GPS systems.
Customize Reservation Email(s)
This step sets up most of the default email templates that are sent out by the system to a customer. These include when a reservation is confirmed when the reservation becomes a quote, payment emails, and other types such as after-sales emails and canceled reservations.
Website Integration
There are different ways to integrate the HQ plugin to your website. Please review our Knowledge Base for more information. You can also contact our support team if you would like us to do the website integration for you.
Accept Online Payments
This step sets up the online payments if your company is planning to accept it. Currently, the gateways that we provide are Mollie, CXPay, PayPal, MercadoPago, Stripe, Swipe,  Doku, Forte Net, Klarna, and several others, if you want to see the list of our current integrated payment gateways check this article. If your company would not like online payments, the system can still accept payments through cash or bank transfer.
System Users
This step sets up the user accounts that your employees will get to gain access to the system. It also sets up what access they will have to the system.
Preventive Maintenance
This step sets up the maintenance check-ups for your vehicles. Here, you can set up over what period of time or distance before your vehicle needs to undergo maintenance as well as assign a specific user to handle it.
Mobile App
The Mobile App can be very useful when checking in and checking out customers. If you would like to download our mobile app click here for IOS devices, and here for Android devices.
Online Travel Agents
If you have at least 35 vehicles in your fleet, it might be worthwhile to become a supplying partner for one or more Online Travel Agents (OTAs). Through our CRX integration, your vehicles can be listed on Kayak.com, Skyscanner.com, CarTrawler.com, and CarRentalExpress.com.
We also have direct integrations with RentCars.com, AirportRentals.com, and VehicleRent.com. You can get in touch with one of our agents to be introduced. If you have a new OTA that you would like to integrate with please introduce us to the right contacts and our development team will then review the integration specifics.
To view more information about the other dashboards, follow one of these links: