When you first start the trial, you are given dummy data which you can use to manipulate and understand the system better. When you are ready, you can delete the data and input your own data. This article is a step by step breakdown on how to clear the demo data. Do note that by clearing the demo data, it will absolutely clear all the data in the system. Therefore, only do this when you are ready to input your data into the system.
Step 1
Navigate to the Dashboard highlighted in dark blue in the picture below and click on the orange "Clear Data" and then select on the "Demo Only" option.

Step 2
After you have done so, a new dialog box will appear asking for confirmation that you would like to delete the data, click on the icon "OK/Accept" button highlighted in orange in the picture below.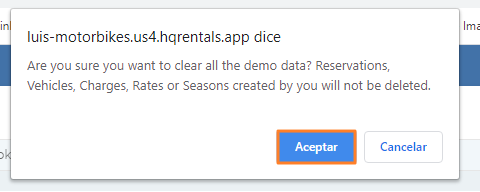 You can now start entering your own data into the system. To learn how you can import data into the system, follow this link here.
Optional
In the case, you don't find the option to delete the demo data, please request it through the online chat to one of our support agents, or using any of our communication channels.