This article is a step by step breakdown on how to print the rental agreement in the confirmation step. This means that you can print out your rental agreement before the reservation goes on "rental" status. To learn more about the rental agreement, click here.
Step 1
Firstly, navigate to Setting > Car Rental as shown in the picture below highlighted in dark blue.

Step 2
Next, select "Yes" under "Enable Print Booking Functionality in Confirmation Step" as shown in the picture below highlighted in orange.

Step 3
Lastly, click on the blue "Save" button located on the bottom of the page.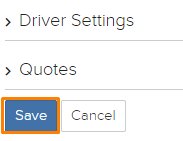 Now when you reach Step 5 and click on the green "Confirm" button, you will notice on the right of the page there is a blue "Print Agreement" button highlighted in orange in the picture below.