This article is a step by step breakdown on how to show prices including location fee so that the prices in Step 2 and 3 are with the location fee. However, when you do this, your reservation summary will still the prices without the location fee tax. To set up the location fee, you can change it in the company branches which you can learn more about here.
Step 1
Firstly, navigate to Settings > Car Rental as shown in the picture below highlighted in dark blue.

Step 2
Secondly, select "Yes" under "Show Prices Including Location Fee" as shown in the picture below highlighted in orange.

Step 3
After you have clicked "Yes", click on the blue "Save" button located on the bottom of the page to save the changes.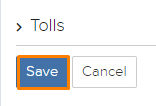 Now when you are on Step 2 or Step 3 of the reservation, you will notice that the prices now include location fee as shown in the pictures below for comparison.

The picture above shows when the price does not include the 10% location fee and the picture below shows when it is including the location fee.