This article is a step by step breakdown on how to show prices (in Step 2 and 3) including sales tax. To set up a sales tax, you can go to Settings > Fleet > Branches, which you can learn more about here.
Step 1
Firstly, navigate to Settings > Car Rental as shown in the picture below highlighted in dark blue.

Step 2
Secondly, select "Yes" under "Show Prices Including Sales Tax" as shown in the picture below highlighted in orange.

Step 3
After you have clicked "Yes", click on the blue "Save" button located on the bottom of the page to save the changes.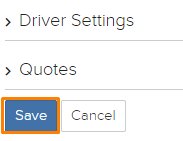 Now when you are on Step 2 or Step 3 of the reservation, you will notice that the prices include sales tax as shown in the pictures below for comparison.
The picture above shows when the price does not include the 6% sales tax and the picture below shows when it does include the sales tax.

Lastly, under Settings > Car Rental (Text Settings tab) you can also change the text to "Includes taxes and insurance".